Over the years, Boulder, Colorado, has garnered kudos as a food mecca: a place where visitors and residents come to revel in seemingly endless gourmet options.
In 2010, Bon Appétit magazine named Boulder "America's Foodiest Town," and Boulder's Farmers' Market made the 2012 Top 10 American Farmers Markets list by U.S. News & World Report.
None of that high-altitude cuisine would be possible without the participation of farmers, however. Good restaurants and talented chefs depend on flavorful, fresh, organic produce from local farms, and we on Colorado's Front Range are lucky to have many producers of fruits, veggies, cheese, eggs, honey, flowers, and meat.
Among the casualties of the 500-year flood in northern Colorado this September, however, were farms. Small-scale, independent, sustainable, and often organic farms. Fields of lettuce and squash and peppers and tomatoes were covered in water during the height of harvest season; rain and mud choked plants and dampened the spirits of farmers.
Front Range Farm Relief
To help hard-hit farmers cope, an organization called Local Food Shift initiated the Front Range Farm Relief Fund. Although millions of dollars in flood relief is pouring into our area, very little is targeted to aid local farms, ranches, and food-related businesses, so this initiative is vital for cultivating sources of food that taste great and are healthy for the earth.
Contributions go toward grants and low-interest loans to farms, ranches, and food producers impacted by the flood—in hopes of getting them up and running by next spring.
You can donate to Front Range Farm Relief Fund by clicking here. If you live in Colorado, or visit the area and enjoy the foodie scene in these parts, this is a way to help out.
Tables to Farms Lends a Hand
Tables to Farms is a new program launched by Boulder County and Denver-area chefs and restaurateurs as a direct way to help Boulder County farmers whose crops, farmhouses, barns, and homes were lost or severely damaged by the September floods.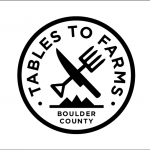 From now through the end of November, participating restaurants will collect cash donations from customers, and some restaurants will hold special fundraising events. All of the proceeds—100 percent—will go directly to Boulder County farms through the Local Food Shift Group's Front Range Farm Relief Fund.
The idea for Tables to Farms came from a conversation between Bradford Heap—chef/owner of Salt Bistro in Boulder and Colterra Food and Wine in Niwot—and his neighbor John Bachman of Big Red F Restaurant Group.
"These farmers are our partners and friends," said Heap. "For over 30 years, we've worked to create a sustainable local food-shed. This is the time to step up and support those farmers who have worked so hard to create that dream. This is the time for our communities to rally and show what 'local' truly means."
Salt Bistro's Tables to Farms special benefit dinner will be Tuesday, October 22, 2013, at 6:30 pm. The fundraising dinner will consist of four courses with paired wines donated by the Natural Wine Company ($120 per person, includes tax and tip). Colterra's benefit dinner will be Tuesday, October 29 at 6:30 p.m. The four-course with paired wines, also donated by the Natural Wine Company is $150 per person, including tax and tip.
Each restaurant that holds fundraisers can earmark which farms receive the funds from its Tables to Farms benefit. Proceeds from Salt and Colterra will go to five farms they use frequently, and that are most in need: Full Circle Farm, Oxford Gardens, Black Cat Farm, 63rd Street Farm, and The Fresh Herb Company.
Check the Local Food Shift website for other restaurants that are joining in the effort.
Donations at the Boulder County Farmers' Market
The Boulder County Farmers' Market is hosting a "Support Your Local Farmer" donation program at both the Longmont and the Boulder markets. For a donation of $2 or more, you'll get a hot cup of apple cider provided by Ela Family Farms in Hotchkiss, Colorado.
All donations go to the Front Range Farm Relief Fund. The cider and donation sites are located at the Information Desk, and you can support local farmers until the end of the season.
In 2013, the last farmers' market in Longmont, Colo., is November 2; in Boulder, Colo., the finale is November 16. (Read my earlier blog post about my hometown farmers' market.)
Shopping the farmers' market is one way of supporting struggling farmers. So is increasing our local food purchasing at farm stands and at retail stores like Door to Door Organics, Lucky's Markets, Alfalfa's, Whole Foods, and Natural Grocers. And of course, we can all patronize the many restaurants who source locally.
A huge part of the beauty of autumn is local fall produce: I, for one, am not going to let the flood ruin that.
—Laurel Kallenbach, freelance writer and editor