I stare at the damp, scattered tea leaves inside my cup, which look like Chinese calligraphy: indecipherable, to me at least.
The bits of oolong left after I drank my tea should tell my future. "Soften your focus and follow your intuition," advises Caroline Dow, who's teaching a class on tea-leaf reading at Boulder's Rocky Mountain Tea Festival. This annual celebration of the Far Eastern beverage is held in late July at the Boulder Dushanbe Teahouse.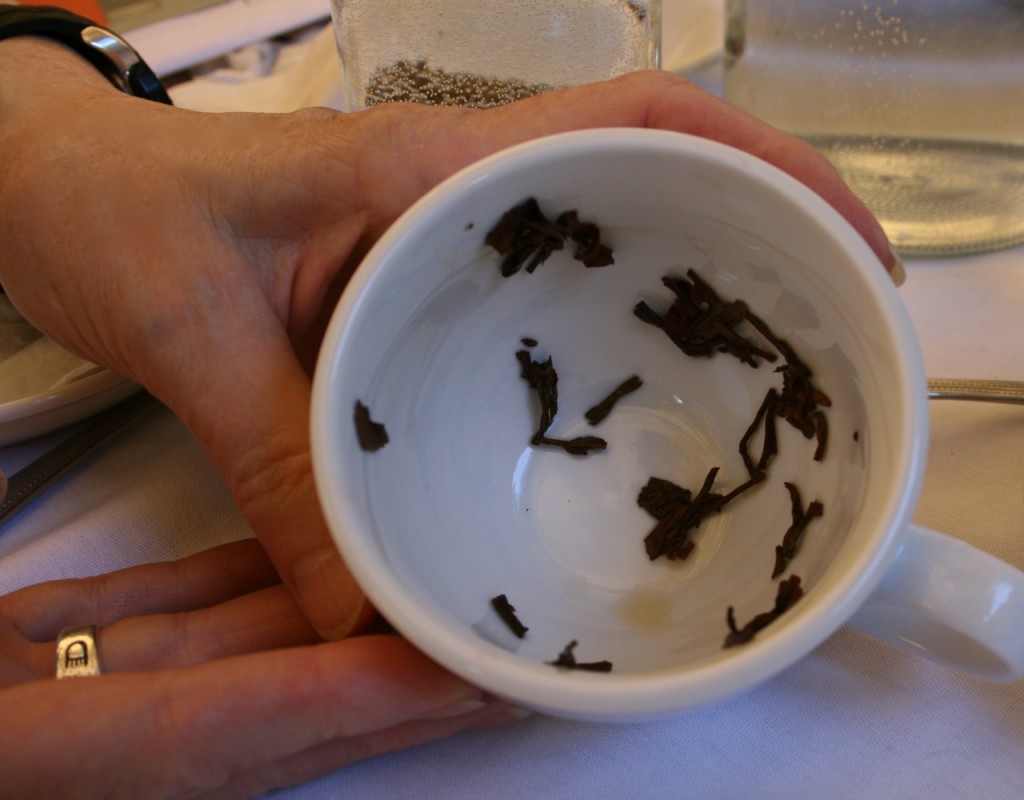 I'm drawing a blank; my cup is a jumble of Xs and blobs. Just then, Dow instructs us to pass our cups to the person on our left and let them interpret our symbols. A woman from Santa Fe studies my leaves. She sees a dog, lots of leggy pieces dancing around, and a flying bird. We consult Dow's list of images and their meanings.
The flying bird augers good news; the dog represents a faithful friend and protection. Moving legs sound hopeful for me because in three weeks I'm having hip surgery. The mystical leaves of the tea plant bear good tidings.
So begins my two-day sojourn into the amazing world of tea at the Rocky Mountain Tea Festival.
Tea 101
Want to learn the difference between oolong, puerh, green tea, and Lapsang Souchong? The Rocky Mountain Tea Festival brings together tea experts, chefs, importers and aficionados for seminars, workshops, and tea tastings—all at the spectacular Boulder Dushanbe Teahouse.
Each year, chef Lenny Martinelli demonstrates how to cook with tea as an ingredient. This year we watched as he made Korean Lapsong Barbecue Ribs, Halumi Cheese with Watermelon, and Black Tea–Glazed Wings—and then got to taste!
The Tea Basics seminar is held by a different tea expert every year, and it focuses on selecting, storing, and brewing tea for your personal taste. For instance, if you're sensitive to caffeine, drink tea brewed from full leaves; crumbled leaves have more surface area, so caffeine infuses the hot water more quickly. The class I took explored the history of tea, its origins, where it's grown around the world, and how each type of tea is made to produce its unique flavor. We tasted green, oolong, black and white teas, comparing them side by side, sniffing their leaves, and learning brewing techniques for each varietal.
Festival Flavors
The ever-expanding Rocky Mountain Tea Festival draws people from all over the country and offers a four-course tea dinner in which all dishes are prepared with tea.
The menu might include delicacies such as Coconut Green Tea Shrimp Ceviche, Duck Breast with Dragon Eyes Black Tea fig reduction, and green tea ice cream.
A children's tea party, complete with costumes, crafts, games, a giant teddy bear, iced herbal tisanes and treats such as tea sandwiches, scones, fresh fruit, and sweets. Activities include crafts, simple games, and a Do-it-Yourself dress-up area.
For me, a real highlight was the Japanese tea ceremony demonstrated by women in full traditional kimonos. The evening was a lovely cultural experience.
Seated around a large table, about 30 of us watched the full ceremony, which is simple but detailed, and choreographed with great precision.
Afterward, we all received and frothed the bright-green Japanese matcha tea and sipped it slowly and with great reverence.
Tea Bazaar
Even if you don't sign up for classes during the festival, you can always drop by the Dushanbe Teahouse and browse through the Tea Bazaar. You'll find beautiful teapots and other tea-making gadgets, loose-leaf tea, cakes of tea leaves, books on tea, and more. You can taste the best flavors from the many manufacturers there—believe me, I was plenty caffeinated after walking through the rows of vendors!
By the end of the two-day festival, I wasn't exactly what you'd call a tea connoisseur, but I sure know a lot more about tea! And now, whenever I need to have my fortune read, I know the answer to life's questions lies in the bottom of a cup of my favorite oolong.
—Laurel Kallenbach, freelance writer and editor