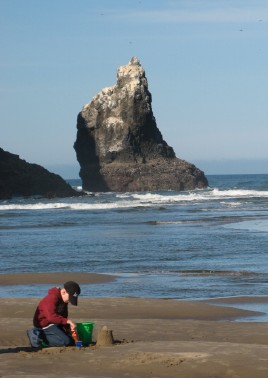 The best place to stay at Cannon Beach, Oregon, in my opinion, is the Hallmark Inn. In 2008, my family stayed there because my in-laws had been there years before, and they could bring their standard poodle (who joyfully frolicked in the sand).
We loved the Hallmark's location so much, we repeated our summer solstice visit. (And that's saying a lot, because I like to try new places all the time.)
The rooms aren't huge or even particularly fancy, but at Cannon Beach, the real attraction is the perpetually-breathtaking Haystack Rock view. This year, like last, we splurged on an oceanfront room, which has a balcony. Outside is the ocean, seagulls, views of whales (in the right season) and the sea-spray. If weather is foul, you can sit inside with a panoramic view by the gas fireplace.
I wouldn't really classify the Hallmark Inn as a green hotel. It does have a water-conserving towel/bed linen policy, but I consider that extremely entry-level environmentalism for the hotel biz.
However, the Hallmark Inns and Resorts (there's another property in Newport Beach that I've never stayed at) does score points because its owners, the family of William G. Hay, recently donated five-plus acres to the North Coast Land Conservancy, which protects coastal ecosystems.
The hotel is also currently building a recycling center for the entire resort. (The town of Cannon Beach doesn't have commercial recycling service, so this step will help to reduce landfill waste.)
And, more important, this hotel puts guests in direct contact with nature. The sand and water beckon. If people are to care about preserving natural places, they have to experience them firsthand so they understand what a treasure they are.
—Laurel Kallenbach, freelance writer and editor