It's been 15 years since I last visited Vancouver Island off the coast of British Columbia, one of the most enchanting places I've ever been to. Among its many wonders is the 55-acre Butchart Gardens, located just 20 kilometers northwest of the glorious city of Victoria.
During the 2020 COVID pandemic, Butchart Gardens is restricting the number of visitors allowed on the property at once, and it has canceled its famous fireworks shows and garden concerts. Check the COVID-19 guidelines  before you go.
In 1904, Robert and Jennie Butchart moved to Vancouver Island and over decades turned a former limestone quarry into a dazzling, landscaped gardens that has become popular with visitors and locals alike. Today, The Butchart Gardens is a National Historic Site of Canada. With millions of bedding plants in over 900 varieties, there's more horticultural beauty than you could possibly explore in a single day.
Looking at photos of the various gardens are reminding me of the beauty of Butchart Gardens. I hope to visit them in person again whenever travel is safe again.
The Sunken Garden
The green-cloaked hills of the Sunken Gardens are actually remnants of an old limestone quarry used to make cement. Instead of slag piles there are beds of flowers, trees, and shrubs—as well as benches for relaxing on and enjoying the scenary.
Protruding from its center, a rock mound offers a lookout point of the Sunken Garden, while its walking path winds past the graceful Ross Fountain and peaceful Bog Garden.
The Rose Garden
I never can resist rose-covered arches, and the ones at Butchart Gardens entice you into the Rose Garden, a Shangri-La of vibrant blooms and luscious scents from summer to early autumn. Pure romance, this garden boasts a glorious collection of floribundas, ramblers, climbers, and Hybrid Tea Roses.
The Japanese Garden
This is one of the first gardens the Butcharts created, and they commissioned a Japanese designer, Isaburo Kishida of Yokohama, to create this serene and sensual space that includes water features and stepping stones and a dragon fountain. A grand Torii gate marks the entrance, inviting visitors to step inside the Japanese Garden where maple and beech trees rustle and Himalayan Blue Poppies blossom in late spring.
The Italian Garden
In the 1920s, the Butchart family  converted their tennis court into a bustling, colorful courtyard. Today the Italian Garden is ornamented with a bronze-cast statue and a flower-studded pond. I still remember enjoying Italian gelato in this lovely garden on a sunny day.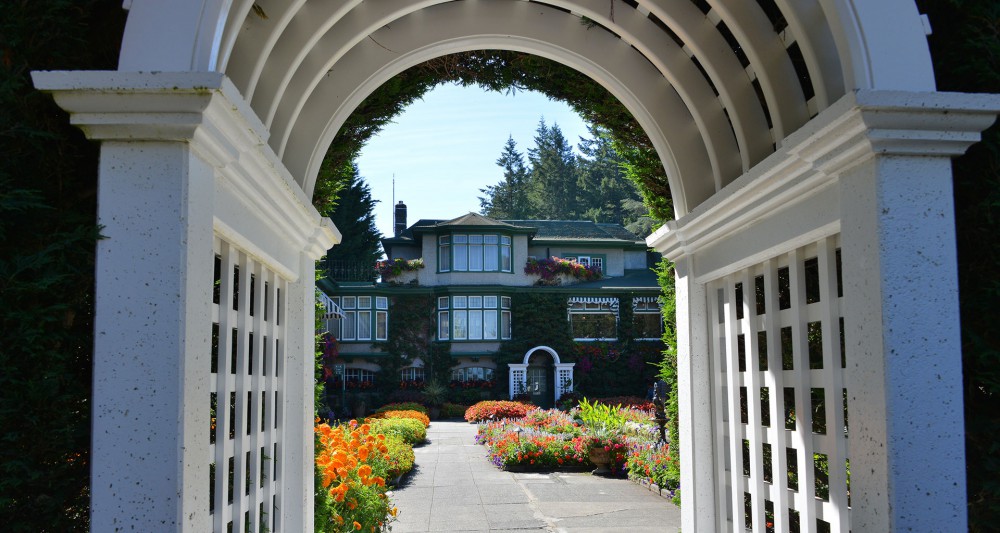 Green Gardens: Butchart's Environmental Practices
Tending the gardens includes stewardship of the land. Here are just some of Butchart's eco-friendly efforts:
Use of reusable wood flats instead of plastic
Repurposing of wood waste, branches, and leaves into mulch and/or compost
Use of manual, mechanical, and nonchemical weed-control methods
Drip irrigation wherever practical
Integrated Pest Management (IPM) program to control insect pests and diseases
Composting program
100-percent biodegradable bags for visitors' purchases
Recycling cardboard, paper, plastic, and Styrofoam
Forest Stewardship Council–certified calendars for sale
Sources local ingredients, organic where possible, for onsite eateries
On-site edible flower and herb garden
Composts all food waste, including dairy cartons
Use of compostable plates, cutlery, straws, and glassware as possible
Recycles all glass, plastic, and metal, including wine, beer and soda bottles
No single-use water bottles. Added water stations in restaurants and throughout the Gardens.
Use of low-energy fixtures with motion sensors and timers
Low-flow toilets throughout the grounds
Recycled water from streams and repurposing water for cooling
Recycles and reuses all metal wiring and firework props
Click here for more Vancouver Island travel tips.
—Laurel Kallenbach, freelance writer and editor