June 2021: While the COVID pandemic is keeping most of us at home, now is a great time to reminisce about past travels. 
Originally published: September 2017
Yes, the names of Upper and Lower Slaughter—which we visited on our second day of walking in England's Cotswold Hills—sound alarming, but if you've read Bill Bryson's The Road to Little Dribbling or Notes from a Small Island you already know that English country towns often carry strange appellations. (And for the record, "Slaughter" comes from the Old English word for a wetland—"slough" or slothre—meaning a "muddy place.")
During our second day walking the "Best of the Cotswolds" loop, the highlight of our 7.5-mile hike was our arrival at these two villages. The walk began with a trek through farm after farm, field gate after field gate, dodging cow patties the size of hubcaps.
How is it possible we were walking across private farmland? In Britain, the Countryside and Rights of Way Act gives people access to "mountain, moor, heath, or down"—within reason, of course. We were almost always on established trails, and usually we could see where other hikers had already plodded across or on the edge of fields. We were respectful of the livestock and crops—although the corn and hay had already been harvested by late August.
Waiting for us after all the farm crossings were two jewels of Cotswold villagedom. First we came to Lower Slaughter, a small village populated by stone cottages built along the slow-moving River Eye.
Lower Slaughter is best known for its 19th-century flour mill with its picturesque waterwheel and chimney. The Old Mill is now a museum and gift shop—which also happens to sell some wonderful ice cream. We had lunch outdoors at the River Café and watched the ducks as we slurped our soup and tucked into sandwiches.
The steeple of the 13th-century Anglican church, St. Mary's, presides over the town, and its clock bells add to the village's timeless feel. An occasional bench makes a nice place to sit and take in the scenery. We could hardly take a dozen steps without snapping a photo, especially after the sun peeped out.
There's something irresistible about willow trees beside the water and Cotswold-stone cottages with flower boxes full of bright blooms.
(Cotswold stone is honey-colored sandstone that's been quarried in the region for centuries and used to build houses and churches.)
At one pretty cottage, a couple was hanging swags of international flags for the upcoming Bank Holiday Village Fete.
After enjoying the views of Lower Slaughter, we continued our walk—yes, through more fields—to Upper Slaughter, a little less than a mile away. Along the way were some glorious trees, including age-old oaks and horse chestnuts that looked like massive green haystacks with pendant nut pods.
This village was—is it possible?—even smaller and a bit more posh than Lower Slaughter. Every cottage had climbing roses and flowerboxes; every stone was perfectly situated.
We wandered about Upper Slaughter and ambled into the Norman St. Peter's church, where the list of priests/clergy stretches back to the 1200s.
We returned to Lower Slaughter to continue on our route to Bourton-on-Water, and in the process of passing through a kissing gate we noticed a plaque commemorating the wedding of Prince Charles and Lady Diana in July of 1981.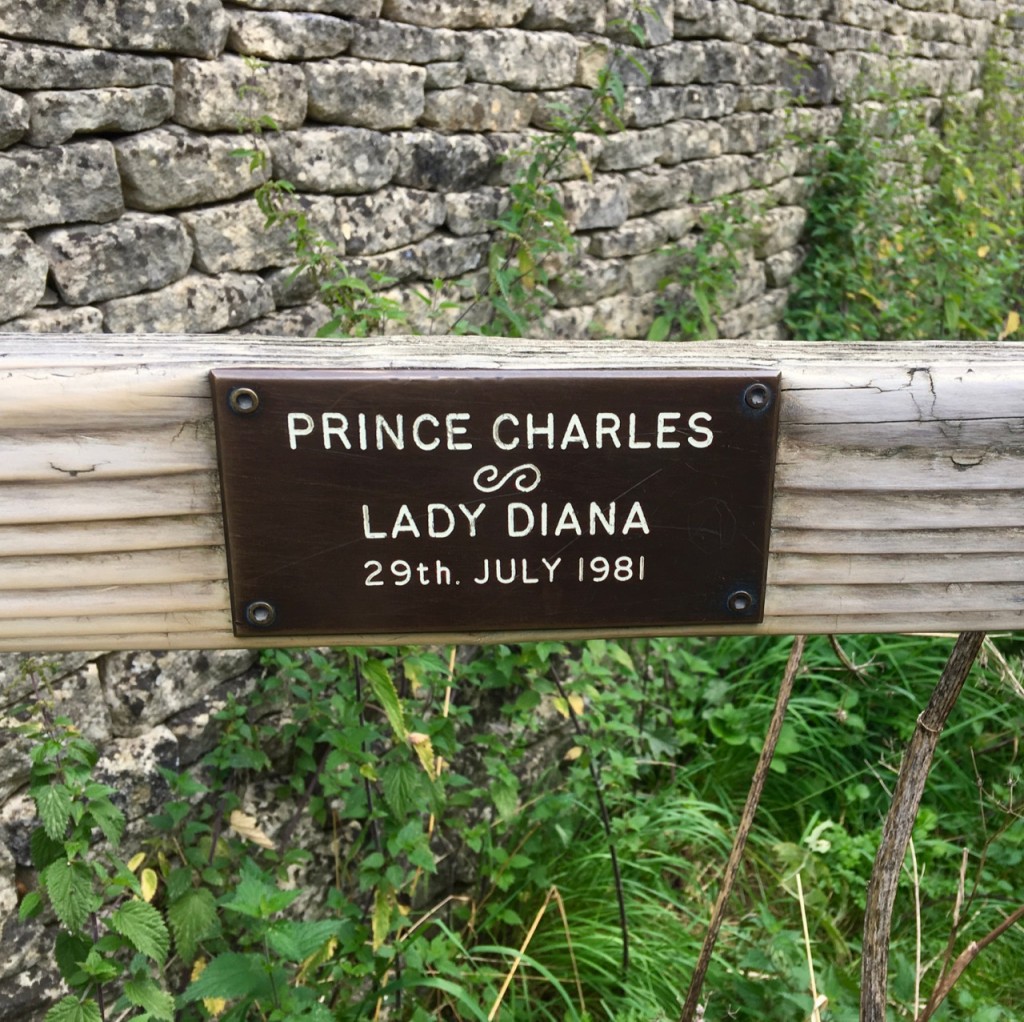 It was a bit sad considering it was just a week before the 20th anniversary of Diana's death. Ken and I shared a smooch at every kissing gate we passed through during our trip, and we thought about how much happier we were than that infamously unhappy royal couple.
PS: What's a kissing gate? It allows people, but not livestock, to pass through it. The hinged gate swings between the two sides of an enclosure, so only one person can step through it at a time, and they can kiss across the gate.
—Laurel Kallenbach, freelance writer and editor
Read more about my Cotswold hiking trip:
More about my travels in England: