Tucked into the forests and organic gardens above the town of Port Antonio is Hotel Mockingbird Hill, an eco-boutique hotel that's the epitome of Jamaica's natural side.
Though not on the beach, the socially- and environmentally-conscious hotel overlooks the aquamarine water not far away. From its hilltop location, you can watch the sun set behind the Blue Mountains from the hotel's restaurant and rooftop observatory.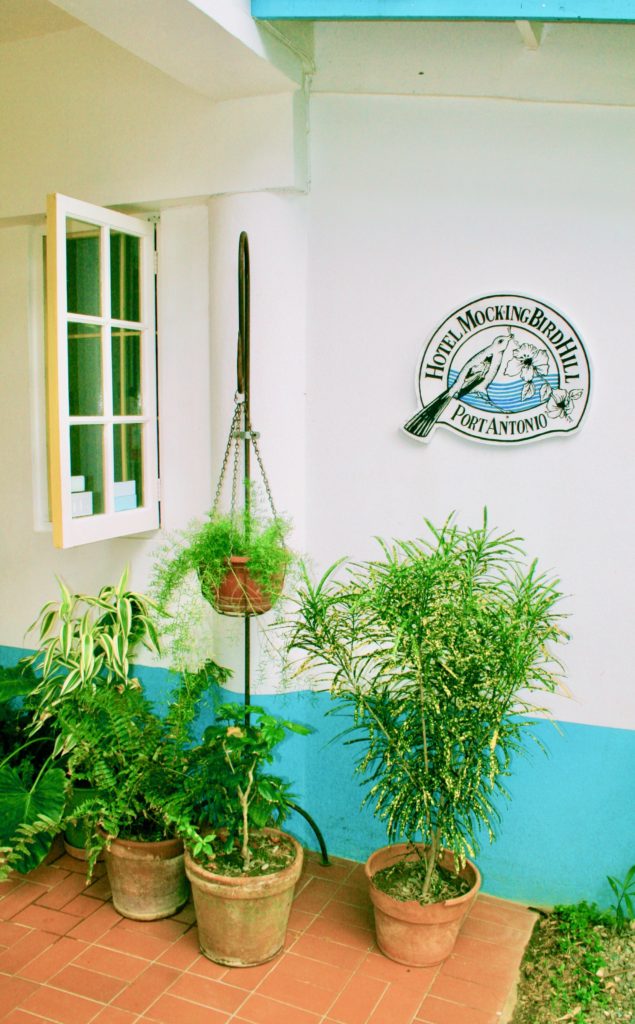 In short, Hotel Mockingbird Hill is connected to the land, the sea, the sky and the community in a way that few places do.
The Luxury of Nature
"What is luxury? The definition has changed. It's not just opulence; it's having space and quiet." –innkeeper Shireen Aga
Hotel Mockingbird Hill does indeed provide the most beautiful of places to relax and forget the cares of the world. Curl up on a deck chair, a pool chair or a day bed hidden in the verdant gardens for some R&R.
Indoors or out, I feel nature's pulse from the moment I wake until I fall asleep—which is perhaps when I enjoy the earthiness the most.
After a satisfying, sustainable meal in the candlelit Mille Fleurs Restaurant (see my post for details about the wonderful cuisine), a hush settles over the hotel and the tree frogs sing their moonlight sonata. Fireflies (bigger than any I've seen before!) sparkle like fairies in the forest.
While getting ready for bed each night, I kept all but one light off so as not to attract insects (there are no screens in the louvered windows so that nothing mars the view or separates you from the gardens and jungle surrounding the hotel.)
Then I would climb beneath the mosquito netting, which is rarely necessary if you turn on the ceiling fan above the bed; mosquitoes avoid the breeze.
Mosquito netting is one of my personal favorite luxuries: a diaphanous tent over my bed that assures that my sleep will be undisturbed by winged insects or the geckos who hunt for them.
To me, it's a treat to sleep in a room open to nature, and mosquito netting over a comfy bed feels like a magic castle. On my first night at Mockingbird Hill, I awoke to fireflies in my room. One settled on the canopy above me and winked me back to sleep.
There are many other luxuries at this 10-room, eco-conscious inn:
sipping a Red Stripe and jerk-spiced nuts at sundown
meeting charming guests from England, Germany and the United States
taking trips to the beach
excursions for a raft ride or to Reach Falls
strolling through the gardens and watching the hummingbirds
lounging in the hammock in my room (and drinking in yet again that view!)
 enjoying a cool dip in the chlorine-free pool.
—Laurel Kallenbach, freelance writer and editor
Originally published on May 5, 2010
Read more about my travels in Jamaica: