Germany's Christmas Markets overflow with treasures and gifts of every size and price, and Frankfurt's massive Christmas market has acres of goods for sale in booths and huts (called stube) located in its historic old town.
In fact, the market spreads over three locations: Römer Square, Paulsplatz, and the Main Quay. The Christmas market was first mentioned in writing in 1393, and was a place to buy foods and other necessities to stock residents through the winter.
Shopping Frankfurt's festive market requires stamina, and that's one of the reasons why the foods sold here are so enticing. Cookies, candies, roasted almonds, sausages and currywurst, and spiced wine served hot (called glühwein; pronounced "glue-vine") beckon browsers to sample along the way—or to take home Christmas delicacies.
There's so much to see and do at the Frankfurt Christmas Market that the organizers offer bilingual tours in German and English to help you get oriented. Make your reservations online.
In 2013, I had a delightful time on one of th tours, which focused on food booths located in Römer Square, the heart of the market—and the prettiest area. (It was reconstructed to its medieval glory after it was almost completely leveled by bombs during WWII.) I learned a great deal about Frankfurt's delectables (details below) and rode on the vintage merry-go-round.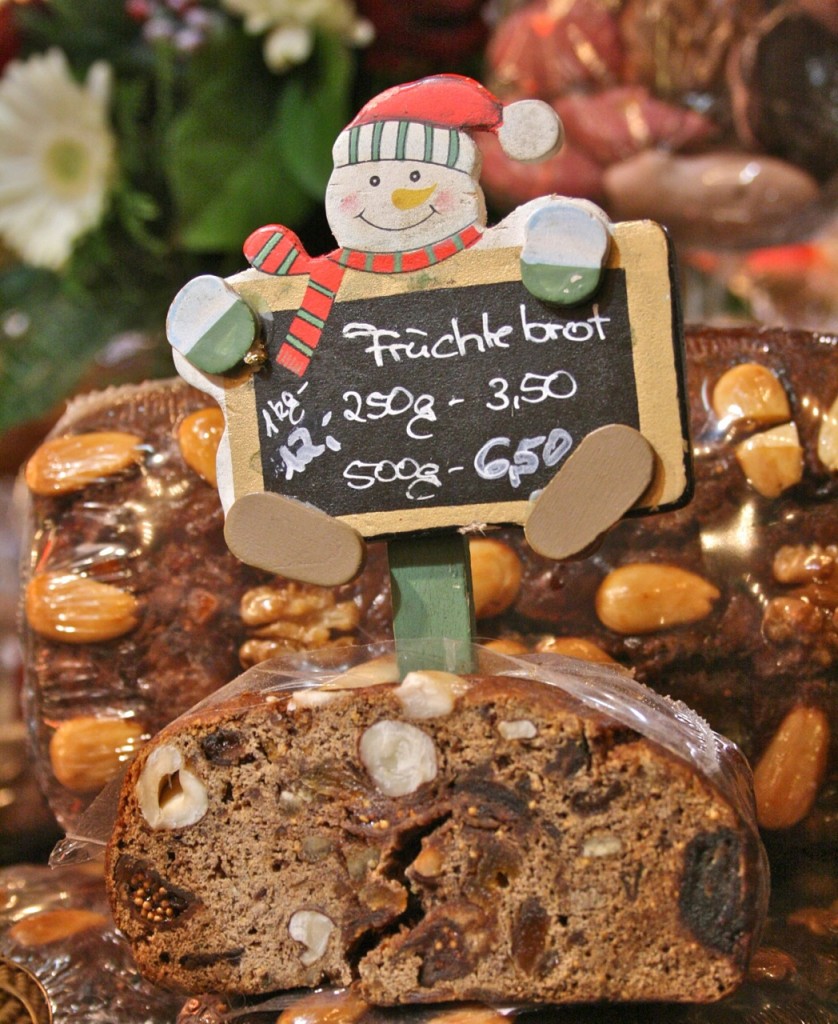 The highlight of the tour included climbing to the roof of St. Nicholas Church for a panoramic view of the entire market and the Frankfurt skyline. Looking down from this bird's-eye view gave me new perspective.
The throngs of people were dwarfed by the half-timbered buildings and City Hall, the wide expanse of cobblestones on Römer Square, and the statue of the goddess Justice. (It was also a chance to take a break from the mad crush of shoppers!)
To cap off the tour, my mostly German-speaking group warmed up with a hot cup of mulled wine and admired the exquisite, 100-foot-tall spruce Christmas tree decorated with 5,000 lights and 500 red ribbons.
Next are five delicious food specialties that are traditionally featured as part of the Frankfurt Christmas Market, which takes place annually from late November until a day or two before Christmas. The scents and flavors of warm wine and the aroma of roasting nuts are absolutely irresistible!
1. Glühwein
A mug of this hot, mulled wine, either white or red, really takes the chill off the evening, and the wooden huts (called stuben in German) where this holiday beverage is served are the hub of the Christmas market. Around glühwein stands, people sometimes stand ten deep around tables, especially after dark when the night temperatures get colder.
I loved how the steamy cup of glühwein fogged up my glasses and warmed my hands. In Frankfurt, the glühwein mugs are in the Bembel style, the blue-floral pattern that dates back centuries.
There's glühwein made of either red or white wine. In Frankfurt, I had a slight preference for the white, but naturally I tried them both. They packed plenty of alcoholic punch, so I never ventured to have one with a shot of liquor in it—though it's available!
2. Lebkuchen (German "gingerbread")The saucer- or plate-sized decorated cookies you see dangling from booths are usually made of lebkuchen, although you can also buy small cookies as well.
The fact that people liken lebkuchen to gingerbread sets up an expectation that left me disappointed—because there's no ginger flavor.
However, the Nuremburg-style lebkuchen I sampled—made from a centuries-old recipe—was chewy, dense, and far less sweet than gingerbread. It's a blend of nutty, spicy, citrusy flavors, and it's glazed with sugar and has a communion-wafer bottom.
I confess that I sampled my lebkuchen at my hotel and washed it down with some Kessler German sparkling wine. I was more than satisfied, even though it didn't taste like the gingerbread I expected.
3. Mead (honey wine)
The double-decker Wagner Honey House at the Frankfurt Christmas Market specializes in bee products—from beeswax candles that smell so sweet you almost want to eat them to honey wines and propolis and bitters (a digestif) sweetened with honey.
Upstairs is a tasting room where you can sample the many varieties of mead, made by fermenting honey and various fruits or spices. (Mead is possibly the world's most ancient alcoholic beverage.)
Because I'd had my fill of glühwein, I opted for the bitters, which have a palate-cleansing effect and a refreshing taste—especially if you've had a few too many sugary sweets.
4. Frankfurt Bethmännchen
Tiny cookies, called Bethmännchen, are a Frankfurt specialty. Made of marzipan rolled like a little ball and decorated with three half-almonds, the treats have a poignant story. In 1838, a banker's family, whose surname was Bethmann, served a new sweet, decorated with four almonds for each of the four sons. When one of the sons died seven years later, the cookies used only three almonds.
Since that time, Bethmännchen have become a Frankfurt tradition and are widely sold throughout the Christmas Market—along with many other shapes and sizes and flavors of baked goods, including stollen, schaumküsse (chocolate-covered marshmallow concoctions that looked like giant Mallomars), and more.
5. Roasted Almonds (Mandeln)
Many stuben in the Frankfurt Christmas Market sell fresh-roasted almonds, but the one that reeled me in with its sweet-savory smells was Eiserloh's, which sells candied almonds in dozens of flavors.
Choices range from white-chocolate hazelnut, orange ginger, chili pepper, Bailey's Irish cream, Nutella, pineapple, Red Bull, white-chocolate coconut, Bacardi Gold, eggnog, raspberry balsamico, and more.
The people behind the Eiserloh counter let me taste half a dozen flavors until I settled on my two favorites: chocolate mint and white-chocolate hazelnut. I left with a colorful cone of each, perfect gifts to take back home to the States.
I came away from the Frankfurt Christmas Market footsore—but happy with all the fabulous flavors I enjoyed there.
For more information: Germany, The Travel Destination
—Laurel Kallenbach, freelance writer and editor
Originally posted December 2014
Read more about Germany's Christmas markets: