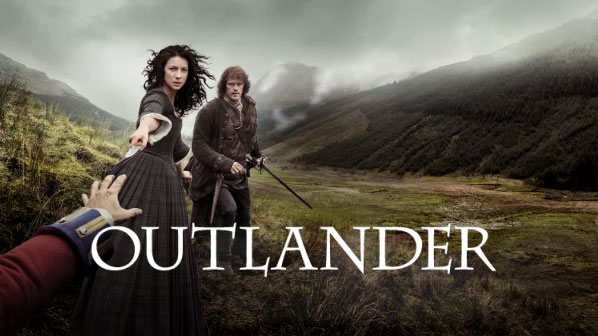 Can't get enough of the stunning scenery from Outlander? The Isle of Lewis, in Scotland's Outer Hebrides, has loads of history and spectacular vistas that will satisfy those who love this romantic, adventurous TV series.
1. Magical Stone Circle
The ancient stone circle called Craigh na Dun that transports Claire into the past is fictional, but the real circle that it was built to resemble is Callanish stone circle on the Isle of Lewis.
Built from multi-ton stones that were dragged for several miles across the land, the Callanish circle is situated on a hilltop with a view of Loch Roag and the mountains to the south. It's not hard to imagine this beautiful and scenic circle as being a magical portal through time. These standing stones have been part of this windswept landscape for more than 4,000 years, and during all those millennia, they've remained the constants as people farm the land and wage wars and fall in love. To read more about Callanish, click here.
2. Scottish Heather
One of Scotland's national flowers, the pink-purple flower of hardy heather is well suited to Scotland's rugged, rocky hills. One legend surrounding heather is that it grows over the places where fairies live. And some Highlanders attached a spray of heather to their weapons for luck. Scottish heather has had plenty of medicinal uses through the ages, including as a remedy for digestive problems, coughs, and arthritis. In Outlander, heather is just one of the botanicals that Claire Beauchamp uses in her healing practice. The Scots' love of heather is exemplified in a Season 1 episode in which a man is fatally gored by a wild boar. As he lies dying, Claire asks him to describe his home. He tells her that the heather is so thick he could walk on it.
3. Old Broch Tower
In Outlander, Lallybroch (also known as Broch Tuarach) is Jamie Fraser's estate, which includes several crofts (see #4) on the ancestral land. A "broch" is an Iron Age fortress-like round-tower unique to Scotland. Not far from Callanish, on the Isle of Lewis is Dun Carloway Broch. Few brochs as well preserved as this one, and you can feel some of the Fraser clan's heritage in its mossy stone walls. This one overlooks the nearby coast.
4. Crofts (small farms)
A delightful scene in Season 1 of Outlander involves Jamie collecting rent from the tenant crofters soon upon his and Claire's arrival at Lallybroch estate. Jamie proves to be a bit too indulgent with a few of his less reputable farmers. A croft is essentially a small agricultural unit, usually a part of a landlord's larger estate.  On Lewis, you can see crofts and visit a historic "blackhouse"—one of the old farmhouses with no chimney that was always so smoky that the ceilings and walls turned black.
5. Hills, Lochs, and Beaches 
Outlander features gorgeous cinematograpy of the Highlands, with craggy hills, lush forests, and placid lakes. Lewis has no shortage of scenery with rocky outcrops, hills and mountains, plus overlooks of the wild Atlantic coastline. In fact, aside from small villages and the town of Stornoway (where there's an airport if you prefer to fly rather than take the ferry from the mainland), most of Lewis is peat moorland, freshwater lochs, silver-sand beaches, and flowering meadows. These beautiful, wild places are perfect for hiking, bird- or whale-watching, fishing, boat trips, cycling, or scenic driving.
For more information, see Visit Scotland's Outlander map of film locations. Or visit the Isle of Lewis information site.
—Laurel Kallenbach, freelance writer and editor 
Originally published June 2016
Read more about my travels in Scotland: